Hi,
I tried conduct 1xN coherence based averaged files for each subject under each condition.See the first picture


Then, I got the coherence data for each subject under each condition. See the second picture for the data strcuture.


Finally, I conuct t test between two conditions to see if there were any difference. I drag the coherence data into process2.See the third and forth pictures for my process and results syructure.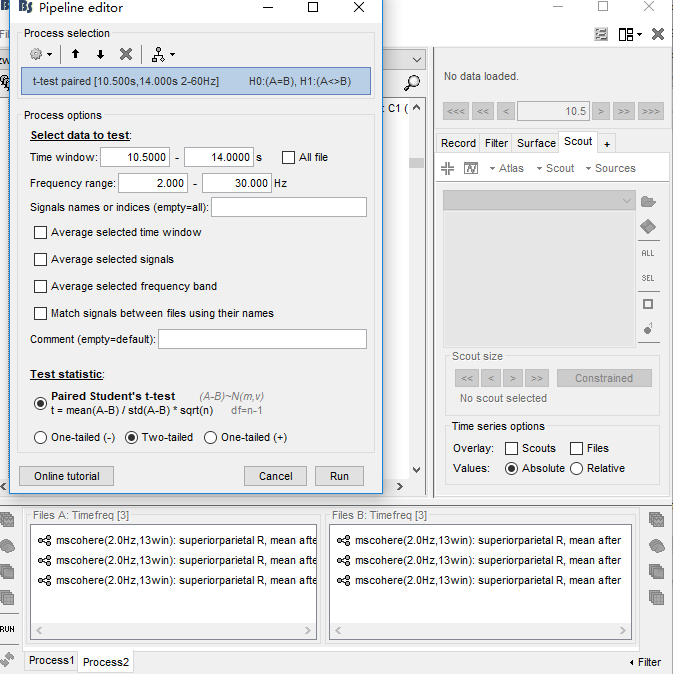 however, there are some questions I cannot understand yet:
1, should I drag averaged source data or baseline corrected averaged source data before conducting coherence (I chose the former one in my analysis). After the computation of coherence for each subject under each condition, is it necessart to normalize the data? If, it is, which method will be recommended?
2. my data was 14s long, I'm intrest in 10.5-14s. As for the time window selection, can I select my intrested period or must I input all my data?
3, after the computation of coherence, the data structure was 15002130. I don't know what does 15002 mean.
4, I want to investigated if there is any coherence (the relationship between my scout and other areas on any frequency band activity) difference betweeen two conditions. Howver, I cannot see any information about brain area and band activity from pmap.
5. If it is possible to compute coherence within intrested band, like 4-8 Hz?