Good morning,
I have a problem regarding the topographical maps of my data, which look abnormal while they were normal before source localization. More precisely:
I have EEG data from 45 participants, I have done the normal pre-processing steps for all the participants and I am now at the source localization level of analysis.
I visualized ERPs before source localization and the topographies looked normal.
For source localization, I used individual MRI, that were segmented + MNI normalized (maff8). I generated BEM meshes. Then , since we had only some default coordinate for the electrodes, I used refine registration and electrode projection on surface to align as well as possible the electrodes to the subject's anatomy. Then I computed OpenMEEG BEM head model. From there, since we have several runs and sessions per subject, but all with the same anatomy / electrode location (and alignment with anatomy) / head model, I used 1) import channel from BST menu to copy the channel file (whose location had been adjusted to the individual MRI) into all subject subfolders; 2) copy head model in order to copy the computed OpenMEEG BEM model into all subject subfolders. These 2 operations were scripted by an MEG-EEG engineer, to avoid any human error in the copying of those files. Finally, I computed the noise covariance matrix based on the baseline between -200 to 0 ms of all the trials for the subject, and computed sources (with the options: current density maps; unconstrained).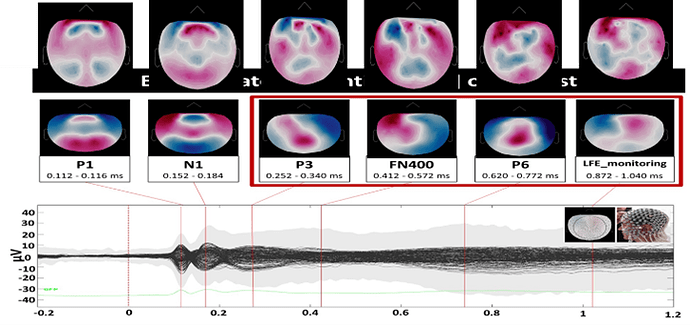 My problem is that after all this, I came back to my ERP scalp topographies and they look totally abnormal: see below. The top row are the abnormal topo maps. The bottom row is the original topo maps (of the ERPs, before all the process done for source localisation).
I have checked that the electrode positions are correct (when I display the electrodes on the topo, they are in the right location; moreover, when I display sensors on head or check their location with respect MRI, they are well located, in line with the alignment procedure I did).
Can you help me detecting what might be the reason for these abnormal topographical maps?
Thank you very much
Filipa