Hi all
I need to make a simular valuation to what was done in this paper:
Effects of forward model errors on EEG source localization- Zeynep Akalin Acar- Scott Makeig
" To assess localization errors for dipole sources located anywhere in the brain, the EEG scalp potential maps were simulated in the subject-specific reference head models (RLS-4) for a rectangular 3-D grid of dipole locations with 8-mm spacing through the cortical volume. To better understand the effect of source orientation
on source localization, three orthogonal (x, y, z oriented) simulated dipoles were placed at each grid location. (Here x ran anterior to posterior, y left to right, and z bottom to top of the head). The resulting 3-D grid source spaces for the four subjects comprised 6,075–7,512 dipoles (at 2,025–2,504 grid locations). For each subject, the simulated scalp projections of each dipole source to the 256 scalp electrodes were then localized in the five template head models, using gradient descent seeded by the best-fitting location in the subject source-space grid. Note that simulations were performed without adding sensor (or other) noise. Therefore the localization errors presented in this section represent a best-case scenario with ideal signal-to-noise ratio (SNR). "
I dont know if it work is possible do it in Brainstorm, or from scripts of brainstorm.
I think doing something like this, but with a greater number of dipoles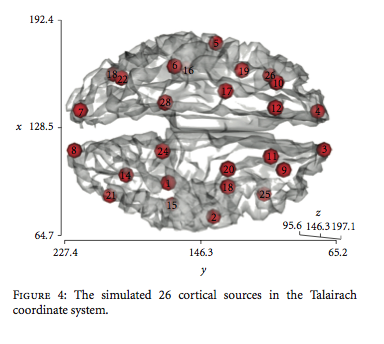 Regards