Hello Nirstorm team
First, thank-you for the amazing program!
I am trying to generate sensitivity models for my montage with subject-specific anatomy following this tutorial: https://github.com/Nirstorm/nirstorm/wiki/Compute-head-model-from-fluence.
So far I have been able to load in the specific anatomy for several participants and create the segmentation_5tissues volume using Fieldtrip for each of them. I then needed to recode the tissues to be 1:scalp, 2:skull, 3:CSF, 4:gray, 5:white matter which I did in Matlab by editing the Labels variable in the segmentation_5tissues .mat file
(CAT12 - 5 tissue segmentation). The fNIRS montage also appears to be loaded correctly.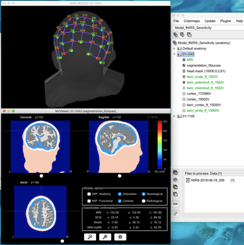 Then I attempted to calculate the fluences from the optode positions using the individual subject anatomy via the 'compute fluences for optodes by MCXLab' function.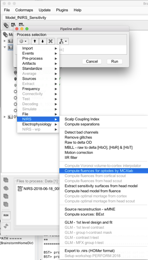 I get the following error (Undefined function 'surfacenorm' for input arguments of type 'double'). I believe I have MCXLab installed correctly since I can type "help mcxlab" at the command line and get some help documentation.
Is there additional information/instructions you have that I can follow? There are a few TODO entries in the tutorial above, possibly there are additional documents available now?
Thanks very much
Helen.