Hello BST community,
I was pre-processing an ABR data (.BDF file) acquired from BioSemi Actiview 2 system.
Just as background information, the ActiView 2 system hardware filters the ABR file with a bandpass of 100 - 3300 Hz when saving. The ABR channels (Left and Right) are already referenced to the reference channel at saving therefore there is no need for re-referencing through Brainstorm process.
In my pre-processing pipeline, the below settings were used to filter my data.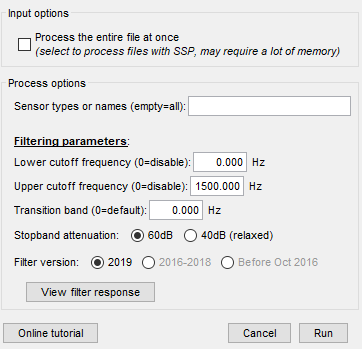 In the below two images, the top represents the averaged response (6000 ABR epochs; the response is actually the stimulus artifact) without Brainstorm filtering and the bottom represents the same response with Brainstorm filtering (LP 1500 Hz). The two images differ ONLY by the filtering processing applied.
Interestingly, the bottom is now showing some kind of filter "ringing" response (?) which is not shown in the top image. What I need is Brainstorm to correctly process the LP 1500 Hz filter without the problematic filtering issue shown in the bottom image.
What might be going on here? Any thoughts?