Hello everybody,
I'm currently extracting scout time series using an atlas and I have the following option to obtain a single time series for each scout: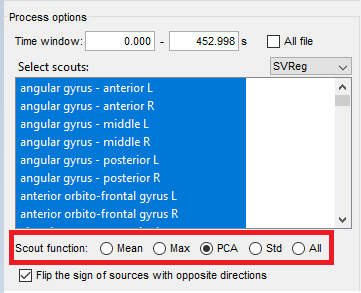 and I was wondering if there was some information on which function is the "best"/"most appropriate". I personally was leaning towards the PCA function, but saw that some first PCA components explain less then half the variance of my data, so now I'm leaning more towards the Mean function.
I was also wondering if it might be interesting to implement an updated PCA method where you could specify a certain percentage of variance that needs to be explained and that it would keep adding PCA components until that percentage was reached. Just an idea though.
I am curious about your opinions.