Hi Francois,
Thank you so much always for your support on this forum.
I attempted to perform a statistical analysis on normalized source-level hilbert transform files.
Each file includes three frequency bands (theta, alpha, and beta at Brainstorm default bands).
Each file has also been averaged over time.
I have 2 within subjects conditions, and 20 subjects for each condition (i.e. 20 files/condition).
I ran a perm t paired test on the theta band based on the following settings.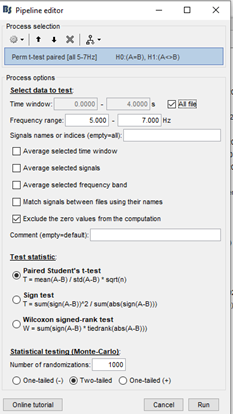 I got the resulting t map.
perm t paired theta.tif (1.9 MB)
For comparison, I ran a regular paired t test (i.e. parametric: paired) based on the following settings.

Strangely, I got nearly the exact same t map.
paired t theta.tif (1.9 MB)
I would have expected the perm t paired test to be much more stringent and result in a more conservative t map than a regular paired t test.
I am suspicious that one of the two is not right (probably the permutation test) but don't understand why.
Do you have any thoughts on this? I searched the forum to see if someone else had brought this up but couldn't find a thread on it.
Here are the images side by side for easier comparison

Thank you very much in advance for your thoughts and advice.
Best,
Jared
P.S. A frequency selection option in the cluster analysis test for future updates would be fantastic!