Hello!
We are analysing EEG data from 30 subjects from an associative memory task. The data is divided in two groups, hit-trials (represented with a 1), where the subject succeeded in the task, and miss-trials (represented with a 0), where the subject did not. So, for example, for subject 1 there are 167 0-trials and 234 1-trials.
We are aiming to calculate time-resolved phase amplitude coupling, averaged over subjects, from both type of trials separately, to later assess if there are any decreases or increases in this tPAC from hit-trials to miss-trials.
However, given the conditions of our analysis, we want to calculate tPAC individually for every trial, then average individually for every subject, and then average tPACs over subjects, and we are facing some complications. We will provide examples only for subjects 1 and 2 in order to simplify it.
Our first approach was to put all trials, from both subjects simultaneously, on the Files-to-process box and doing the tPAC by keeping enabled the "Save average PAC across trials" option.
Our second approach consisted on calculating individually tPAC for every subject, hence doing the same as above but putting on the box only 0-trials from subject 1 and obtaining the tPAC map for subject 1. Then, we did the same for subject 2 and averaged both tPAC maps with the "Average PAC maps".
We realized, first, that both approaches were giving the same results, which made sense to us. However, secondly we realized that these results depended on the order in which we include the files in the box. We attach below a table with, at the first column, the analysis performed and, at the second column, the results obtained for each analysis.
It can be seen that every result obtained corresponds only to the first file included in the box. We wonder if we are doing something wrong or if there is a correct way to perform the analysis we are aiming which is not the one we are using.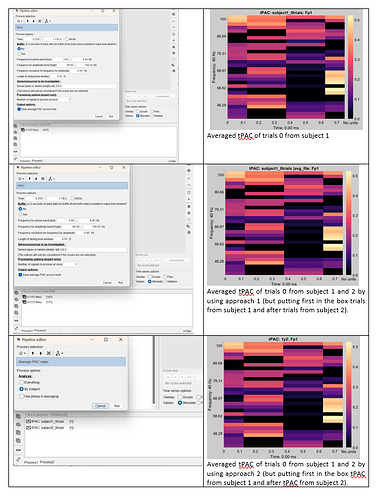 Thank you in advance!