Thanks for the prompt reply.
I'm struggling to automate localization of SEEG electrodes. I can go through manually and enter them, but it would help to have the software automatically localize the artifact and attempt to make SEEG contacts that I can then modify instead of individually going through post-implant CT and marking them manually.
#Anatomical_labelling section shows a way to use an atlas to automatically place SEEG electrodes, but the option does not appear on my subject channel file.

The recorded data I have channel file marks the type of recordings as EEG when in fact they are SEEG recordings. Does that make a difference? I am trying to avoid editing the channel file. I see if I make channel type SEEG it opens the options for iEEG atlas. In another test subject I tried to make a SEEG implant and manually entered locations of electrodes entry/target and then exported positions as .pol file, then I right click channel file then add electrode positions and import the .pol file. It had variable success. I once edited the SEEG implant by adjusting an electrdoe, then all the positions became removed outside of the skull in same reference to each other, but not in reference to CT or MRI.
For the channel file edited as SEEG type, I ran the options as in the tutorial. I save a tsv file, then right click channel file and click add electrode positions. The channel file also has the problem that the channels are grouped only as one group E. I can go through and edit the groups to reflect individual channels. Would that help? Or must I still go and manually select entry and target points for each electrode?
If I try to do SEEG implant as if to do manual localization of electrodes, then the SEEG channel file is empty with 0 contacts. I cannot right click it to try to get iEEG atlas to work.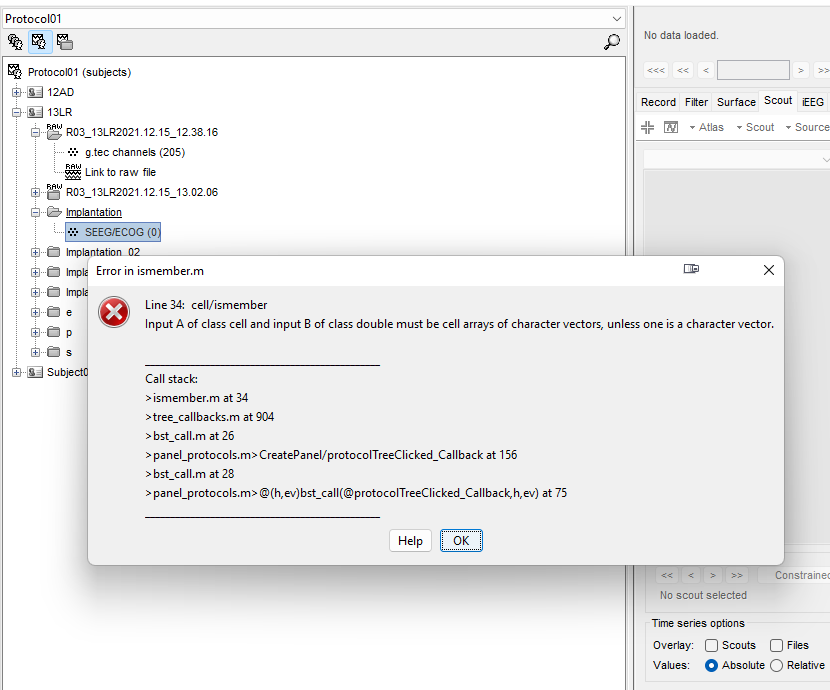 Any help, much appreciated. I am trying to rely on the tutorials, but I'm stuck when it comes to applying to my own data. I was successful briefly for one trial raw recording to have electrodes displayed in Raw block001, but none of the other trials work

Thanks,
Cory Myers