Hello, I am having an error with viewing Time-frequency t-test results.
Recently, when I ran a time-frequency map t-test between two groups, the resulting TF map is all gray (see Image 1).
However, when I open "All Channels" or the 2D layout of all channels, I can see the maps just fine (see Image 2). But when I click on one of the channels from the layout, it is then just gray. In the command window the following error in orange shows:
Blockquote
Warning: Error creating or updating Surface
Error in value of property CData
Array is wrong shape or size
In defaulterrorcallback (line 12)
In panel_display>UpdateRowList (line 1065)
In panel_display>UpdatePanel (line 594)
In panel_display>CurrentFigureChanged_Callback (line 327)
In panel_display (line 32)
In bst_figures>SetCurrentFigure (line 1101)
In bst_figures (line 59)
In view_timefreq (line 227)
In tree_callbacks (line 395)
In bst_call (line 28)
In panel_protocols>CreatePanel/protocolTreeClicked_Callback (line 125)
In bst_call (line 28)
In panel_protocols>@(h,ev)bst_call(@protocolTreeClicked_Callback,h,ev) (line 75) '
Image 1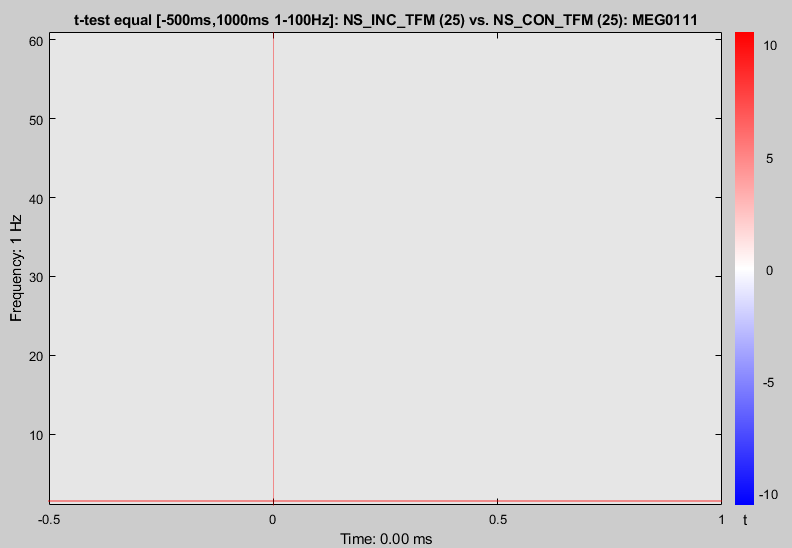 Image 2
Previous t-test outputs open just fine despite using the same parameters. I am not sure if a recent update is causing this or my path or something else.
Any help is appreciated!
Thank you,
Kathryn King
(University of Texas at Arlington)