Hi,
as the title mentioned, i want to simulate some EEG signals to verify my source reconstruction algorithm.i have followed the tutorials in this forum to simulate EEG signals :
But i find if i have 2 different generated signals(such as Sin and Cos curves),and use the options 'simulate the recordings from scouts', it will just generate two different simulate EEG scalp signals corresponding to different generated signals.
All i want to do is to apply different generated signals in different scouts to simulate one EEG scalp model and its signals.In other word, It means i want to make different scouts have different source signals and use this source model to simulate a EEG scalp model.
like the figure i posted as following, i plan to make V1 area have 2Hz-Sin signal ,and V2 area have 8Hz etc.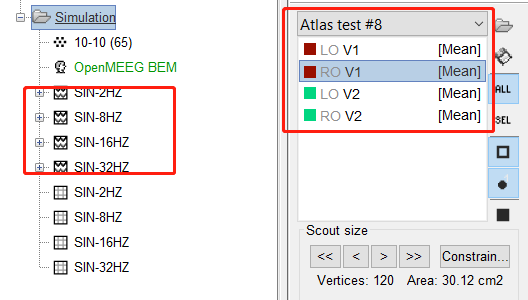 Thanks a lot in advance!!