Hello Brainstorm,
My research focus is on sleep spindles and I've been visually identifying sleep spindles in my nap data using 15 EEG, 2 EOG, and 3 EMG channels (second figure below). The identified spindles were marked as events using the Brainstorm markers as shown below.
The goal of my research is to characterize the following sleep spindle parameters: duration, frequency, amplitude, degree of symmetry and density. In order for me to characterise these parameters I would need to somehow isolate only the already-identified spindles and their corresponding stage 2 sleep epochs.
Specifically, I now need a way to extract both stage 2 sleep epochs (also marked as separate events; 30-sec epochs) and identified sleep spindles (separate events; coloured in black) from the EEG (across all channels and over the entire duration of the recording) for further analysis. Preferably I would like if the extracted data could be viewed as a continuous recording.
It would be great if this kind of extraction is possible but if it's not I welcome any other thoughts that you might have.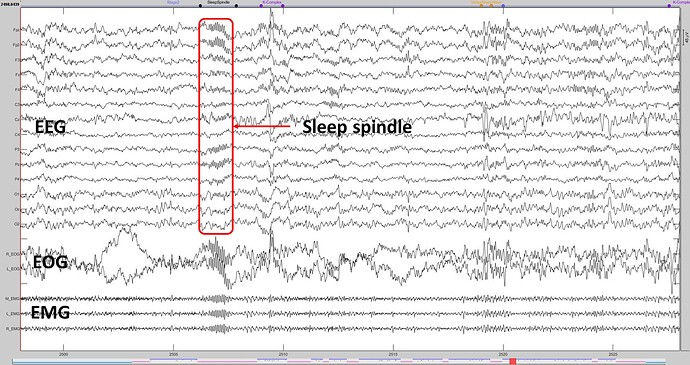 I mention the below post that I've written a few days ago to give more background of what my research interests are.