Sylvian Fissure Terminal Split


The Sylvian Fissure (SF) separates the temporal lobe from the frontal and parietal lobes above. The SF can be traced on the surface of the brain but, because it is a real fissure and not a sulcus, it has no deep boundary; in depth it merges with the circular sulcus. Therefore, it should not be part of the curves discussed here. However, its terminal branches can be viewed as independent sulci and should be traced. The terminal segment of the SF starts in the depth of space formed by the temporal and parietal opercula. From there it courses posteriorly and laterally to reach the lateral surface of the hemisphere. It terminates as a single horizontal sulcus or as a single ascending sulcus. Traditionally the left hemisphere SF is considered to have a more or less horizontal course and the right hemisphere a more ascending course. The SF may also split into two terminal branches, one ascending and one descending. For the purpose of consistency for brain alignment it may be best to trace the ascending branch whenever there is more than one to choose from.
It is best to trace the SF after tracing the Transverse Temporal Sulcus (TTS) and the Circular Sulcus (CircS). The SF starts immediately behind the most mesial and posterior point of the TTS (green) as seen in (1). It then courses posteriorly to end naturally on the surface of the hemisphere (2).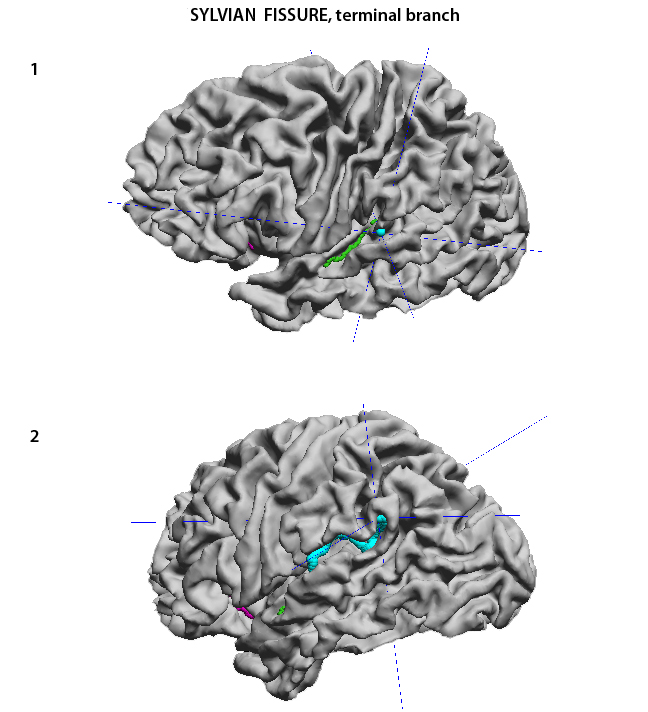 The transverse temporal sulcus is also traced (in green)